Twenty Writing Prompts for 2020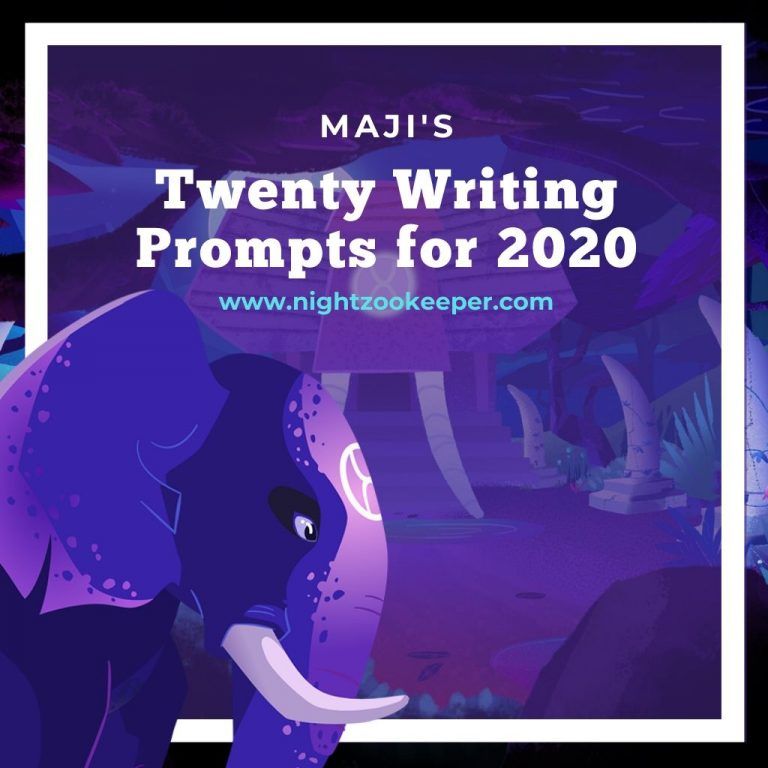 Happy New Year! We hope you have entered this new year feeling refreshed and ready for new beginnings. Can you believe we're already halfway through January? We certainly can't.
2020 marks a lot of new beginnings, which might be difficult for children to understand. It marks both the start of a new year, as well as a new decade! We thought it would be fun to serve up some fresh new writing prompts to help your children better understand what all the buzz about a new year is about. What better character to deliver these prompts, but Maji the Time Travelling Elephant? She knows a lot about new years!
These writing prompts can be used as free-writes in the writing section of your children's Night Zookeeper accounts, or they can certainly be written by hand. If your child doesn't have an account yet, you can sign up here.
The writing prompts listed below were written with the intention of guiding your children to start think about new beginnings and resolutions. It also has them reflect on past accomplishments that they should be proud of. We offer an array of different types of writing and drawing challenges, asking them to create new magical animals, write adventure stories, poems, persuasive essays, reports, as well as short stories. Please feel free to change the type of writing you would like your child to do; the idea is to get them engaged and wanting to write about January and the year to come!
With these wonderful 2020 writing prompts for kids, your children can make great use of their imaginations and creative drive. Whatever your child decides to write about, we hope they will keep their writing fun and a little bit magical!
Twenty Writing Prompts for 2020: 1. 2020 marks a new decade (which means a 10-year period). Write a letter to your future self to read 10 years from now. What advice will you give to yourself? 2. A New Year's Resolution is a promise to do something differently in the new year. Can you write your own New Year's Resolution? 3. January always marks a brand new year. Can you write a poem that focuses on the word "Beginning"? 4. Can you create a magical animal that LOVES wintertime? What's their favourite activity? 5. Can you write an acrostic poem using the word JANUARY? Remember, the first letter of each line must start with each letter in January. 6. Can you write an adventure story with a character that has alliteration in their name? Example: Florence Flamingo. 7. Describe three good memories from the holidays that you wish to remember. 8. What month are you most looking forward to this year? Can you write a diary entry about why? 9. Penguin Professor and Will are going on an adventure together. Can you write a playscript about what they encounter? 10. Grudge the Bear has blue fur. Can you create another animal that is the colour blue? 11. What's one thing you hope to achieve or accomplish this year? 12. What foods do you like to eat in the wintertime? Can you write a menu with these foods? 13. Can you write a haiku about winter? Remember the format: 5 syllables, 7 syllables, 5 syllables. 14. Can you write about an accomplishment that you achieved in 2019? Why are you proud of it? 15. Write a letter to a friend planning a fun playdate you'd like to have. 16. Do you like the month of January? Why or why not? 17. January is named after Janus, the god of beginnings and transitions in Roman mythology. Can you create a new month and name it after something? 18. What's your favourite winter activity? Why? 19. Write a persuasive essay on which season is your favourite? Remember to give reasons why.
20. Look back on 2019 and reflect on something you're proud of.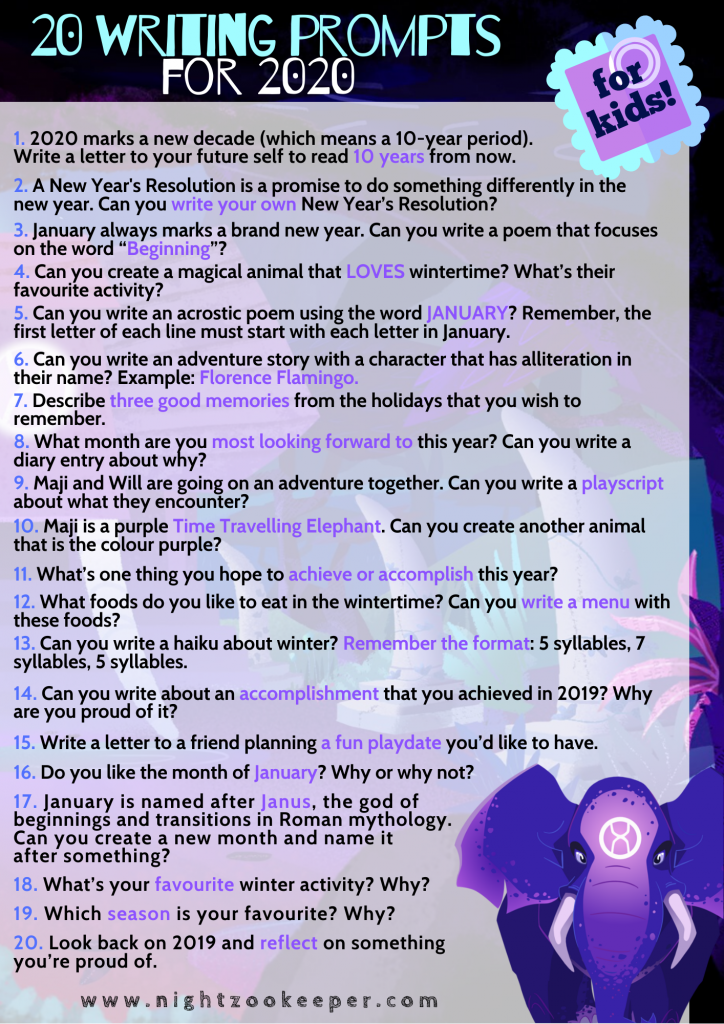 We encourage you to share any work produced from Maji's 2020 writing prompts by your children! We love reading creative writing and encouraging children to love creative writing. If you enjoyed these wonderful winter writing prompt ideas for kids, please share them on Facebook, Twitter, and/or Pinterest.
Are you a parent who wants to get your child started on Night Zookeeper? You can sign up here.
Do you have a request for future writing prompts? Let us know in the comments!